A must-have for any outdoor adventure
Whether you're camping in the mountains or lounging on the beach, you'll stay protected from pesky insects.
Triple-Stitching and ultra-strong nylon straps to reduce pressure points.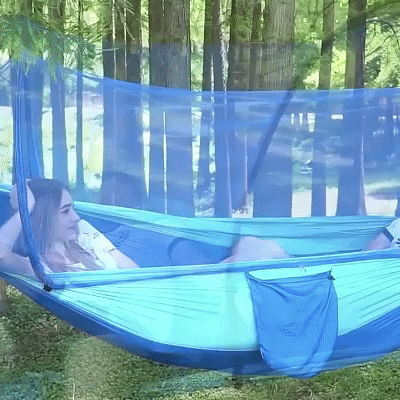 The solution to mosquito-infested camping trips
With its built-in insect-blocking technology, you can relax without the annoying buzz of mosquitoes, in comfort.
Made of superior 

210T Nylon fabric, polyester mesh for durability

Tear-resistant, breathable and quick drying
Easy Set-Up



















Relax and rejuvenate in a bug-free zone

Don't settle for a flimsy camping hammock that won't stand up to the elements. Invest in a hammock that will last for years to come and keep you bug-free on all your outdoor adventures!
Specs:
Product Size: 260*130cm/102*51 inches
Packaging Size: 20cm*24cm
Material:  210T Nylon fabric, polyester mesh
Maximum Safe Load:  200kg/441lb
Weight: 700 g
Our Guarantee
We get it, most tools today sold online are crap and under-deliver. This is why we offer 30 day money back returns because we guarantee you'll be satisfied
Frequently Asked Questions
Products usually arrive in 10 business days. However, please allow a 2-day variance due to unexpected delays.
We offer 30 day returns so try it risk free!
Yes! We ship to US, AU, NZ, UK and CA!
A regular chainsaw reuqires gas, are bulky and can't fit in your pocket. These are perfect for survival situations or if you want to stay as light as possible on your outdoor adventures.