---
Nostalgia and modern functionality

Experience the charm and warmth of bygone days with our retro lantern. Its vintage design will transport you to a simpler time, making it the perfect addition to any outdoor setup.
Dimmable lighting for a customizable ambiance
Old-school charm for modern explorers
Whether you're facing a rainy night or simply looking to set the mood, this lantern has got you covered by being 100% water-resistant. It can also be used as a power source to charge your phone.
Can be utilized as a power source to charge phone

Durable construction to withstand outdoor use
Illuminate your adventures with nostalgia
With its durable construction and dimmable lighting, this lantern provides reliable and customizable illumination wherever your adventures take you.
Its vintage design and soft, warm light will transport you to a bygone era, making it the perfect addition to your camping gear for a touch of old-school charm.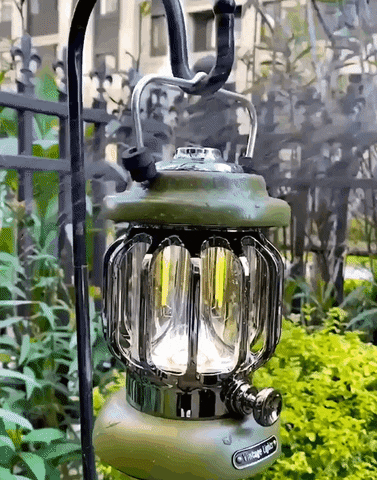 Specs:
7 hours on max brightness, 70 hours on minimum brightness

Type C fast charging with USB compatibility

Color Temperature: 3700-6500K

Power supply: 4500mAh

Brightness: 38-380LM

IPx4 Waterproof

Wattage: 3.8W

Voltage: 3.7V
A classic camping companion
Frequently Asked Questions
Products usually arrive in 10 business days. However, please allow a 2-day variance due to unexpected delays.
We offer 30 day returns so try it risk free!
Yes! We ship to US, AU, NZ, UK and CA!
A regular chainsaw reuqires gas, are bulky and can't fit in your pocket. These are perfect for survival situations or if you want to stay as light as possible on your outdoor adventures.