---
Finally, A Comfortable Outdoor Adventure
No longer do you need to carry a separate stool on your outdoor adventures. With just a few simple steps,

this backpack transforms into a sturdy and comfortable seat.

 
Backpack, stool AND a built-in cooler!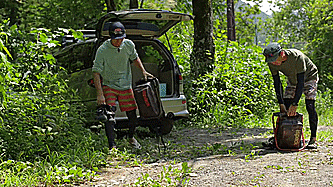 Built to last longer than a year
Most other companies sell gear that only last for a few uses. However, this is crafted with
wear-resistant and tear-resistant
material so you can rest assured
quality is a priority.
Built-in Mini cooler
Weight capacity of up to 300 lbs (136 kg)
Optimal comfort, storage, convenience & quality
So whether you're taking a break on a scenic hike or need a place to sit at a crowded event, this backpack-stool is the perfect solution. 
Camping, hiking, or you need a quick break at events, this backpack-stool combo got you covered. Built with adjustable straps for optimal comfort, the whole family will benefit!
   The Smart Travelers Choice!
Frequently Asked Questions
Products usually arrive in 10 business days. However, please allow a 2-day variance due to unexpected delays.
We offer 30 day returns so try it risk free!
Yes! We ship to US, AU, NZ, UK and CA!
A regular chainsaw reuqires gas, are bulky and can't fit in your pocket. These are perfect for survival situations or if you want to stay as light as possible on your outdoor adventures.