---
Transform Your Wrist into a Toolbox!

Say goodbye to the frustration of constantly having to dig through your toolbox for the right tool! Now you can have all your small tools where you need them, and on your wrist.
Perfect for home improvement, construction, carpentry, auto repair, etc.
Free Your Hands: Magnetize Your Tools
Our magnetic wristband is not just a convenience – it's a safety feature too. No more dropping tools and risking injury while working at heights or in awkward positions.
Improves efficiency and productivity
Fits any wrist size with adjustable strap
Get the job done faster & more efficient
The wristband is lightweight and comfortable to wear, and the adjustable strap ensures a secure fit for any wrist size. You'll wonder how you ever managed without it!
It also makes a great gift for the handy person in your life. Get one for dad, for yourself, for a husband, a brother or one for the entire family! 
Note: Tools not included
 Revolutionize the way you work - Our Guarantee 
We stand behind the quality of our product, so if you are not completely satisfied with your purchase, we offer a 100% money-back guarantee.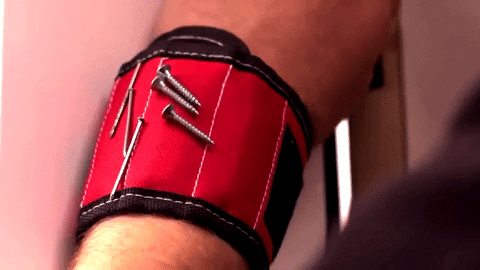 Frequently Asked Questions
Products usually arrive in 10 business days. However, please allow a 2-day variance due to unexpected delays.
We offer 30 day returns so try it risk free!
Yes! We ship to US, AU, NZ, UK and CA!
A regular chainsaw reuqires gas, are bulky and can't fit in your pocket. These are perfect for survival situations or if you want to stay as light as possible on your outdoor adventures.